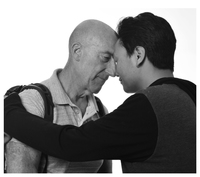 OUR PEOPLE work with people of all ages that want to connect with their community more closely and who want to tell a story. A community can be any group of people - from those you live around, to those you work with, to those share and interest and passion with. We know that we all make assumptions and have 'ideas' about who people are, however we can often be very wrong. OUR PEOPLE uses photography and interview to get behind the image and understand who someone is.
The project started in 2017 with a group of students from alternative education in Whangarei. Together with our tutors Melinda Butt and Hamish Oakley-Brown, they went out into their community and into Whangarei's CBD to meet people, photograph them, and learn more about both the people around them, and themselves.
The exhibition of their work - title He Kankano Ahau Whangarei - a project of OUR PEOPLE will be held at the Shutter Room in June/July 2018. And this year we will be expanding our project.
In 2019 we are bringing the project to Waitakere to work with the Massey community.
If you are interested in participating in OUR PEOPLE or want to know more please contact us.
Images from HE KAKANO AHAU WHANGAREI - a project of OUR PEOPLE