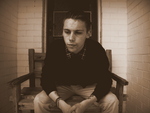 Biography
At just 19 Ash Grahams songs show a maturity that is quite beyond his years and his first EP Sixth Street Soul, released in August 2013, shows a developed progression in his music, and saw him working with the likes of Andrew Spraggon (Sola Rosa). The two singles off that EP, Matter of Time and Glamour received great feedback from radio in NZ.
Its 2014 and hes not slowing down. In April he released a collaborative Hip Hop track Ride. This saw him working with the No Problemos and Kaaia Smith and it remained in the top 5 for the entire month of the Auidences charts.
This May hes released his track Calling as part of the Beck Beer NZ Music Month collection and already the buzz is building.
In June he will be releasing the first track off his new EP with the EP release to follow in August and a tour in late August through September.
Already, Ash has played support for a diverse bunch of artists from I am Giant to Anna Coddington to Shihad and hes played everything from major NZ festivals to back rooms. Ash's music has a hook that keeps you wanting to come back for more and this October/November Ash is heading out on the road to take his music to audiences across the North Island.
www.ashgraham.co.nz