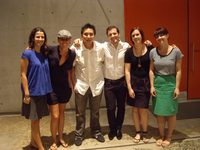 We had our first ever Portfolio Presentation Evening last night and it ROCKED. Five fabulous presenters from the world of design talked about their inspiring, fascinating and often beautiful work to an audience at Bay 16 Cafe in Carriageworks, Syndey.
The night kicked off with Pip and Matt from THE LOOP - if you are in the creative sector at all you need to get a profile up on The Loop asap!!
Sarah and Brooke talked us through the creation and building of THE FINDERS KEEPERS MARKET, which is becoming one of 'THE' Design and Art Markets to go to and definitely shouldn't be missed. They also gave some brilliant tips for emerging creative entrepreneurs.
The gorgeous Tom kept us completely enthralled with his presentation on the stunning design work he's done for MAGNUM DESIGN clients, and then went on to talk about COLLEKTOR, a brilliant opportunity for artists and designers looking to see their artworks. He also had some great advice for designers and those that make their creative passion their life.
Lam showed us an amazing portfolio of design work and other inspiring creative projects he has both been working on and is currently working on. And finally Michele Lenn showed us a gorgeous portfolio of design work.
Don't worry, you haven't missed out completely we'll be adding these to the Creative Collide website soon so make sure you join up!! And keep your eyes peeled the next Portfolio Presentation Evening is on its way and this one will be all about being creative online!
Posted: Tue 30 Mar 2010